<![CDATA[

The price list of domain renewals and transfers is surprisingly hidden with Namecheap — took me a while to figure it out so I made this guide. Just click on the direct link below and follow the simple directions. It's quite easy!

Step 1. Go to —> Namecheap's Domain Pricing Tab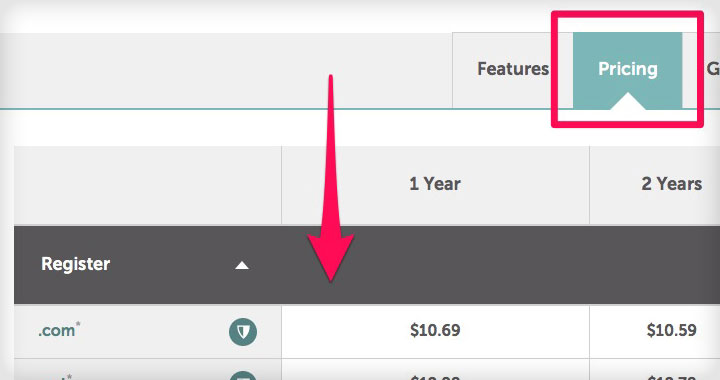 Step 2. Scroll to —> Bottom of list and click on 'Renew' or 'Transfer'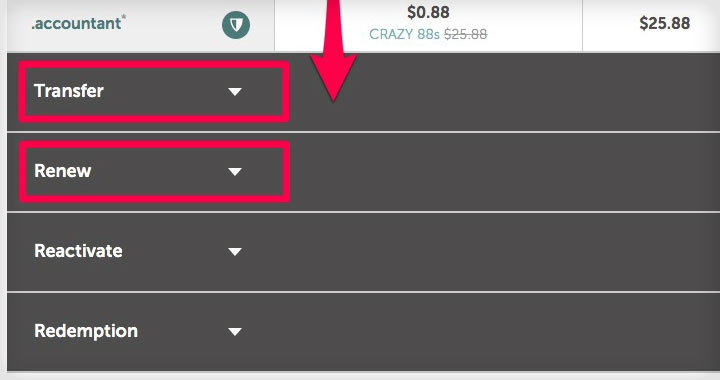 Step 3. There we have it —> A full 'Renew' or 'Transfer' price list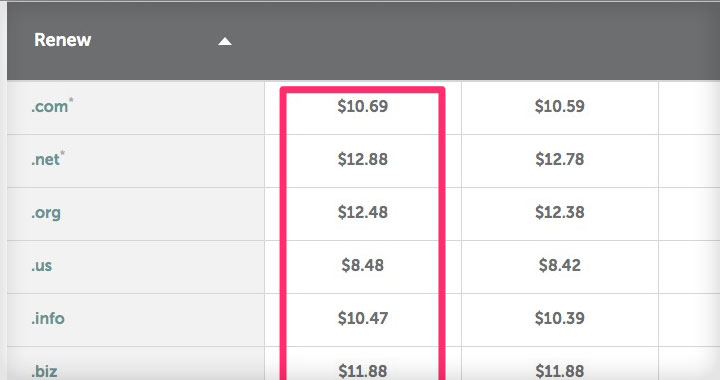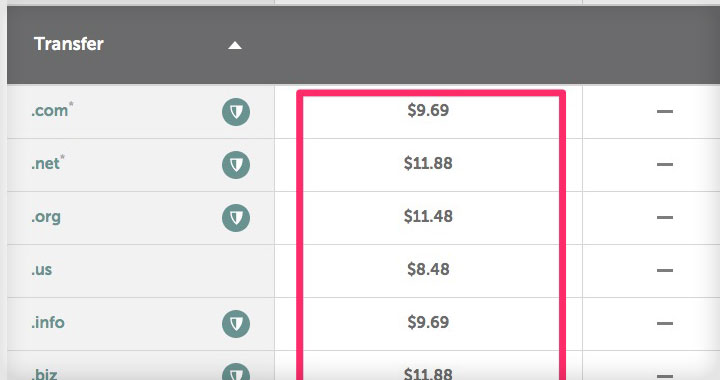 Hope this helps!
Namecheap, Inc's Pricing Policy
One might argue that this could be some kind of a marketing ploy, however this is very unlikely. If it were Godaddy or some other so called "low-cost registrar" with renewal up-charges and hidden fees, they could certainly benefit from trying to hide their renewal pricing list. However, this is just not how Namecheap works as their policy is focused on constant and affordable pricing.
Basically — first year registrations are not always cheapest possible, but in the long term (and who doesn't want to keep their domains) it will turn out cheaper as there won't be any "surprise-surprise" factors after a year passed when you start renewing your domains. However, it is just common sense to check out what you are singing up for as there are many registrars that feed on expensive renewals. As to why Namecheap is not making it a little more easier to figure out that in fact they are the 'good guys', will perhaps remain a mystery.
One word of caution is that there is no support for immediate outward transfer of domains. This means that if you are not happy with the price or found cheaper elsewhere, it will take five days to transfer out to another registrar. While this could be called a clever tactic, it is a fact that probably most companies practice this method which is just common sense to watch out for.
Here are some examples of renewal pricing from August of 2016.
Domain, 1 year, 2 years, 3 years, 4 years, 5 years
.com, $10.69, $10.59, $10.49, $10.39, $10.29
.net, $12.88, $12.78, $12.68, $12.58, $12.48
.org, $12.48, $12.38, $12.28, $12.18, $12.08
.us, $8.48, $8.42, $8.34, $8.27, $8.19
.info, $10.47, $10.39, $10.31, $10.23, $10.15
.biz, $11.88, $11.88, $11.88, $11.88, $11.88
List of available domains (not complete):

.review, .net, .network, .viajes, .vote, .space, .today, .camera, .vc, .cab, .tennis, .pictures, .ninja, .bike, .training, .tokyo, .host, .voting, .sex, .builders, .ar.com, .fit, .media, .net.bz, .bingo, .sa.com, .tv, .style, .luxury, .investments, .gives, .nu, .land, .financial, .es, .coupons, .kaufen, .ws, .black, .in, .pics, .paris, .maison, .gr.com, .world, .video, .lease, .buzz, .guitars, .feedback, .works, .vision, .lawyer, .cruises, .pro, .limited, .sydney, .co.bz, .uy.com, .life, .guru, .reisen, .click, .kiwi, .school, .cloud, .express, .how, .academy, .porn, .equipment, .direct, .cricket, .taxi, .soccer, .kim, .solutions, .bargains, .dance, .uk.com, .healthcare, .tips, .cn.com, .fund, .cards, .memorial, .garden, .flowers, .li, .global, .adult, .education, .attorney, .money, .party, .website, .band, .no.com, .cheap, .city, .dentist, .moe, .loan, .theatre, .email, .de, .auto, .community, .digital, .boutique, .green, .info, .club, .faith, .net.vc, .repair, .enterprises, .domains, .catering, .site, .live, .deals, .town, .construction, .delivery, .wales, .ltda, .gmbh, .zone, .immobilien, .management, .codes, .center, .farm, .vodka, .org.vc, .singles, .hiphop, .wtf, .diet, .ru.com, .holdings, .gifts, .protection, .co.com, .ltd, .movie, .christmas, .expert, .stream, .tienda, .racing, .ceo, .la, .pub, .mex.com, .big, .lighting, .car, .gb.com, .surgery, .photos, .com.pe, .exchange, .news, .ryukyu, .cash, .za.com, .photo, .contractors, .haus, .limo, .tax, .trade, .hamburg, .energy, .sucks, .toys, .desi, .sg, .vacations, .com.de, .hu.net, .gold, .casino, .kitchen, .pink, .fishing, .com.es, .navy, .rocks, .report, .coach, .kr.com, .fail, .com.vc, .se.com, .hosting, .org.au, .pe, .studio, .asia, .rest, .engineering, .link, .reviews, .ca, .football, .team, .bz, .army, .mom, .surf, .discount, .blackfriday, .eu.com, .uk, .degree, .actor, .golf, .sexy, .immo, .properties, .poker, .irish, .melbourne, .vip, .net.pe, .insure, .care, .rodeo, .help, .love, .associates, .camp, .creditcard, .store, .onl, .jewelry, .se.net, .tattoo, .game, .earth, .dental, .soy, .claims, .consulting, .uno, .uk.net, .com.se, .com.sg, .co.uk, .audio, .com, .nyc, .software, .qc.com, .cc, .company, .directory, .nagoya, .group, .com.au, .date, .vegas, .recipes, .cafe, .download, .xxx, .biz, .fans, .democrat, .us.com, .jp.net, .watch, .agency, .film, .xyz, .gb.net, .support, .wiki, .casa, .men, .blue, .institute, .guide, .london, .wedding, .house, .international, .reise, .me.uk, .clinic, .cm, .capital, .solar, .place, .rehab, .beer, .rentals, .industries, .gratis, .win, .one, .technology, .press, .org.es, .market, .plumbing, .productions, .hu.com, .cars, .org, .us, .glass, .design, .cooking, .villas, .webcam, .ink, .work, .krd, .us.org, .property, .top, .bar, .marketing, .de.com, .accountants, .family, .dog, .accountant, .parts, .fr, .mortgage, .juegos, .fashion, .supplies, .airforce, .cymru, .org.pe, .florist, .credit, .university, .co, .forsale, .computer, .red, .fyi, .partners, .pw, .apartments, .sale, .sarl, .yoga, .clothing, .okinawa, .ch, .cleaning, .moda, .best, .diamonds, .social, .business, .tires, .coffee, .auction, .careers, .finance, .gallery, .in.net, .courses, .online, .events, .lgbt, .org.uk, .voyage, .shiksha, .foundation, .church, .ski, .me, .pizza, .holiday, .show, .photography, .mobi, .run, .services, .furniture, .engineer, .tech, .jetzt, .theater, .jpn.com, .rip, .berlin, .com.bz, .condos, .build, .bio, .cool, .exposed, .io, .gift, .fish, .br.com, .college, .nom.es, .futbol, .net.au, .ae.org, .schule, .study, .voto, .mba, .legal, .tours, .menu, .eu, .chat, .republican, .ventures, .science, .tools, .restaurant, .graphics, .plus, .hockey, .fitness, .vet, .security, .gripe, .horse, .country, .shoes, .loans, .estate, .systems, .supply, .rent, .dating, .flights

Comments and questions most welcome. Thanks!

]]>