Install notes for a single boot install of Debian on the Asus X205TA (EeeBook).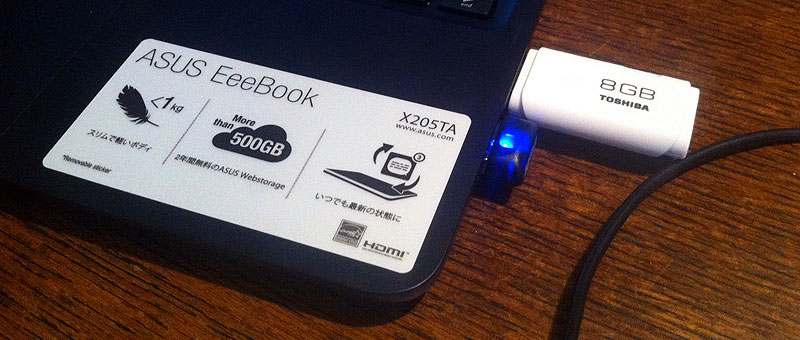 Hardware Used
Asus X205TA-B 11.6inch, eMMC 64GB Storage, 2GB Memory
USB Wi-Fi adapter: Buffalo WLI-UC-GNM2 (Ralink RT2870 chip)
Random 8GB USB stick
Micro SD card
Random USB sound card
Notes
Kernel 4.1.6-1 operation is smooth
Kernel 4.2.0-1 causes random freezes
Links
Basic Install Steps
Image used: Debian Testing Netinst i386 (32bit), 'Stretch Alpha 3′.
Created bootable FAT-32 formatted USB stick with UNetbootin & disk image: debian-stretch-DI-alpha3-i386-netinst.iso
Copied 'firmware-ralink_0.44_all.deb' from the firmware package (download here) to usb stick '/firmware' directory to have support for Ralink drivers during netinstall.
Hit ESC on boot to enter setup
Security -> Secure Boot menu -> Secure Boot -> Disabled
Boot again 'ESC' to select 'UEFI'
Install straight forward with Xfce Debian desktop environment
Keyboard Shortcuts
In Applications — Settings — Settings Manager — Keyboard — Application Shortcuts.
TouchPad Toggle (check correct id with xinput list):
xinput set-prop 12 "Device Enabled" 0
xinput set-prop 12 "Device Enabled" 1
Screen Brightness (apt-get install xbacklight):
xbacklight -dec 10
xbacklight -inc 10
Network Adapters
Internal Broadcom BCM43341
Download & unpack: bcm43341.tar.gz
mkdir -p /lib/firmware/brcm/
cp fw_bcm43341.bin /lib/firmware/brcm/brcmfmac43340-sdio.bin
cp /sys/firmware/efi/efivars/nvram-74b00bd9-805a-4d61-b51f-43268123d113 /lib/firmware/brcm/brcmfmac43340-sdio.txt
External Ralink 802.11n WLAN
Network interface name was crazy long, dmesg: "rt2800usb 1-1.2.1:1.0 wlxcce1d54d5908: renamed from wlan0". Changed name to wlan1 in '/lib/udev/rules.d/80-networking.rules' file.
command: 'ip link' to check mac address of interface
added line: SUBSYSTEM=="net", ACTION=="add", ATTR{address}=="aa:bb:cc:dd:ee:ff", NAME="wlan1″
microSD Card
/etc/modprobe.d/sdhci.conf
add line: options sdhci debug_quirks=0x8000
update-initramfs -u -k all