In this post you'll find the working Booking.com refer a friend invite link for a $25 cash reward for all hotel bookings in 2023, valid for new & old accounts.
Click below Booking.com referral link to activate cash reward!
http://www.booking.com/s/11_6/a63ad1e2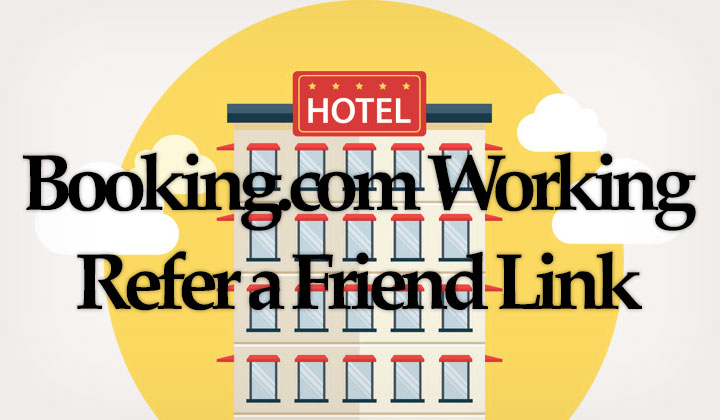 With this Booking.com promotion, get up to $25 off from one hotel booking as a cashback, verified working in December of 2023. Enjoy!
Please note. Incase the invite doesn't work for some reason, please leave a comment below, and I will provide a working refer a friend link for you.
Booking.com Refer a Friend Link Cash Reward
This is how the invite bonus offer works to collect your free $25 cash reward. Each link can be used only 10 times, once per account (no codes exist), which is why most links circulating online are used up and no longer working.
This post however, is regularly updated with working links. You can be logged in with an old account, or register a new one. Either way works!
Step 1. Click on the refer a friend link to activate cash bonus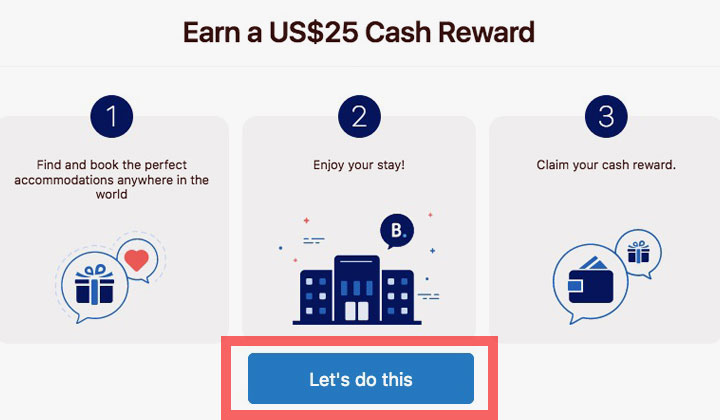 Step 2. You'll see the available cash reward offer, click on "Let's do this".
Note! The available cash back amount can differ depending on the refer a friend link used. Either way the rewards are similar, ranging from $15 to $25 in USD or other currencies, and some might offer a 10% reward from the booking made.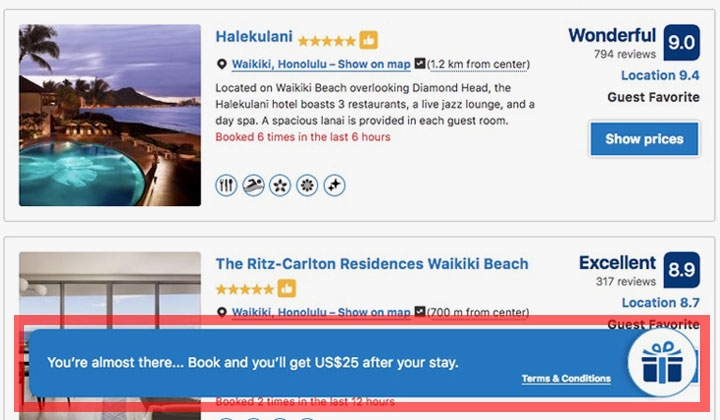 Step 3. You'll see a message saying "You're almost there… Book and you'll get US$25 after your stay". Proceed to make your hotel booking as usual.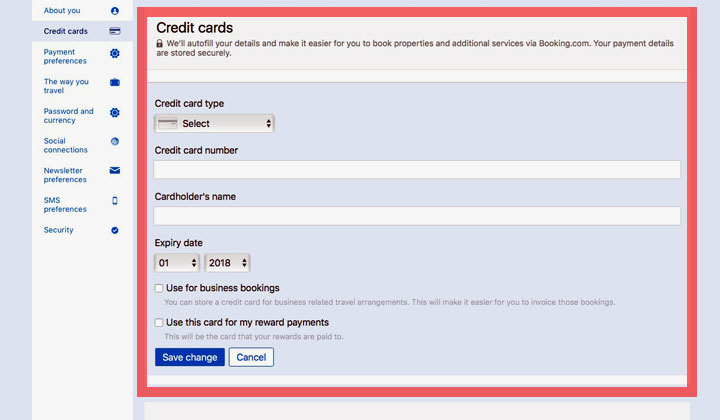 Step 4. That's it. After you have stayed at the booked hotel successfully, the cash reward will be automatically deposited to your credit card on file.
Note! Make sure to add your credit card through Booking.com settings, this can be either a credit or debit card. Nearly all cards are supported.
Good to know about Booking.com refer a friend program;
Some customers have thought that they can use the link several times for obtaining the reward. This is not true. Only one booking per account!
You cannot register false Booking.com accounts to make refer a friend links, both accounts, invite and invitee need to be verified by credit card.
Accepted cards include debit and credit cards from American Express, Visa, Euro/Mastercard & MasterCard (virtual credit card).
Link is in format www.booking.com/s/code/code
There are no coupon codes, or discount codes, the promotion is only activated by clicking on a valid referral link.
Facing problems? See the bottom of this article for the FAQ.
Booking.com Referral Bonus Program
Each Booking.com user with a verified credit card on file has their own unique referral link that you can spread the offer with, amongst friends or pretty much anyone, for up to a $250 total cash reward for yourself.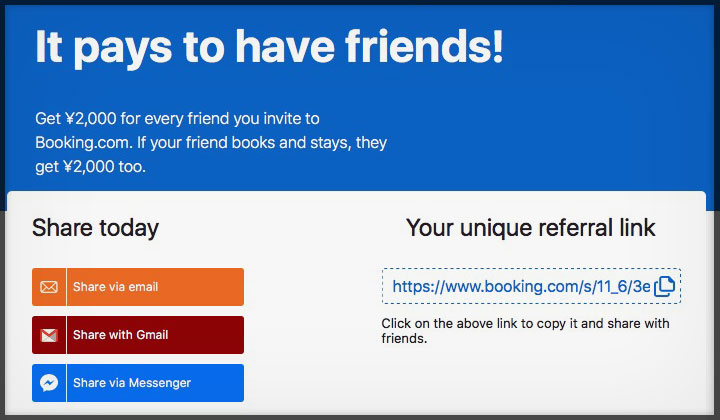 In the top menu, see link that says "Refer friends and earn". You have the option to copy your  link and use it where ever you wish. There is also a button for sharing the link on social media, email, etc.
Also you'll see live statistics of active referrals on this page.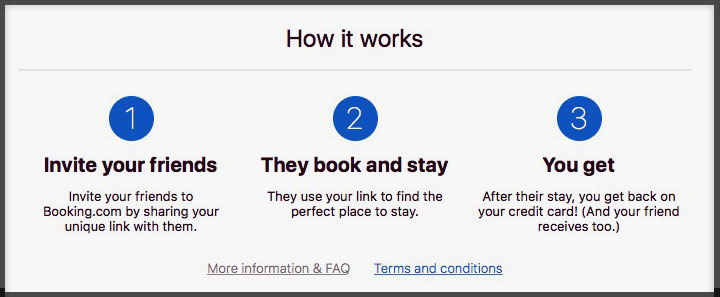 Good to know about referral bonus program;
The offer can only be used to book a hotel once per Booking.com account
The refer a friend link can only be used 10 times in total, by 10 different Booking.com account holders.
You can receive the cash reward only after the friend has paid for, and ended their stay at the hotel.
The cash reward is different depending on the country where you registered your Booking.com account. More details below!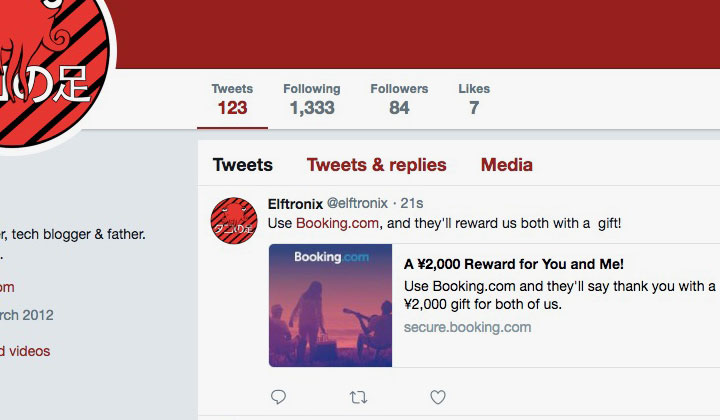 This is what it looks like if you use the button to share your link on Twitter.
Booking.com referral cash reward per country;
The offer is different depending on country location. So the currency can differ, and the amount money offered for both parties.
So for example, account holders in Canada will receive the reward in Canadian dollars. Or those from the UK will get the reward in Pound sterling and offer a 10% cashback for those referred, instead of a fixed amount.
Some country locations will offer a better deal than others, however once it's set you can no longer change it. The first country location you have used to register your account will be applied. The only way to change country is to register a new account.
I have tested and confirmed that;
Changing preferred language doesn't work
Clearing cache doesn't work
Changing country region in settings doesn't work
Changing preferred currency in settings doesn't work
Logging out and back in again doesn't work
Note that country location is determined by your IP address. This is the number assigned to each internet connection to define your location.
Besides moving to that location, the only other way is to use a VPN connection to route your internet connection through a country like US for example.
Here is a detailed list of available cash rewards!
Friend Invite Reward for USA;

One of the best offers is for those who are located in the United States, you can get $25 US dollars for every friend you invite to Booking.com, and if your friend books and stays at a hotel, they get the same $25 deposited to their credit card.
Friend Invite Reward for UK;

Also account holders from the United Kingdom have a very attractive offer, with it you can get £20 for each invited friend and your friend can get 10% off from a single hotel booking on the Booking.com website, in the form of a cashback.
Friend Invite Reward for Canada;

Get CAD 25 (Canadian Dollars) for every friend you invite, and if your friend stays at a hotel through Booking.com, they get the same CAD 25.
Friend Invite Reward for Europe & EU countries;

For Booking.com accounts from all European countries, you get €20 for each referral and if your friend books and stays, they get 10% back.
This includes all EU countries;
Belgium, Bulgaria, Croatia, Cyprus, Denmark, Germany, Estonia, Finland, France, Greece, United Kingdom (UK), Hungary, Ireland, Italy, Latvia, Lithuania, Luxembourg, Malta, The Netherlands (Holland), Austria, Poland, Portugal, Romania, Slovenia, Slovakia, Spain, Czech Republic, Sweden.
And most non-EU countries in Europe as well;
Albania, Armenia. Belarus, Gibraltar, Iceland, Kosovo, Lechtenstein, Macedonia, Norway, Russian Federation, Switzerland, Turkey, Ukraine.
Friend Invite Reward for Japan;

Booking.com account holders located in Japan, will get the reward in Japanese YEN, total ¥2000 for both the invite and person invited.
Friend Invite Reward for Thailand;

In Thailand, the cash reward is THB 550 (Thai baht) for both.
Friend Invite Reward for Australia;

In Australia, AUD 25 (Australian Dollars) for both.
Friend Invite Reward for India;

In India, Rs. 700 (Indian rupee) for both.
Friend Invite Reward for Brazil;

In Brazil, R$ 50 (Brazilian real) for both.
Friend Invite Reward for rest of South America;

For users of Booking.com in most South American countries (excluding Brazil) the cash reward offer is in US Dollars, total $15 for both.
This includes Latin American countries such as;
Belize, Costa Rica, El Salvador, Guatemala, Honduras, Mexico, Nicaragua, Panama, Argentina, Bolivia, Brazil, Chile, Colombia, Ecuador, French Guiana, Guyana, Paraguay, Peru, Suriname, Uruguay, Venezuela, Cuba, Dominican Republic, Haiti.
Friend Invite Reward for other countries;

Other country locations are offered $15 in US Dollars for every friend that's invited to Booking.com, and those friends get 10% back of their hotel booking.
Countries I have verified to be included in this offer;
Russia, Hong Kong, Malaysia, South Korea, New Zealand, Singapore, Turkey, Egypt, Israel, Kazakhstan.
Other countries likely included here;
Macau, United Arab Emirates, Saudi Arabia, Lebanon, Qatar, Mainland China.
Booking.com Referral Problems
Is the referral program not working for you? If you have any issues with the cash reward, your unique refer a friend link, etc. Please check the FAQ below.
If you still have problems, leave a comment and I'll do my best to help out.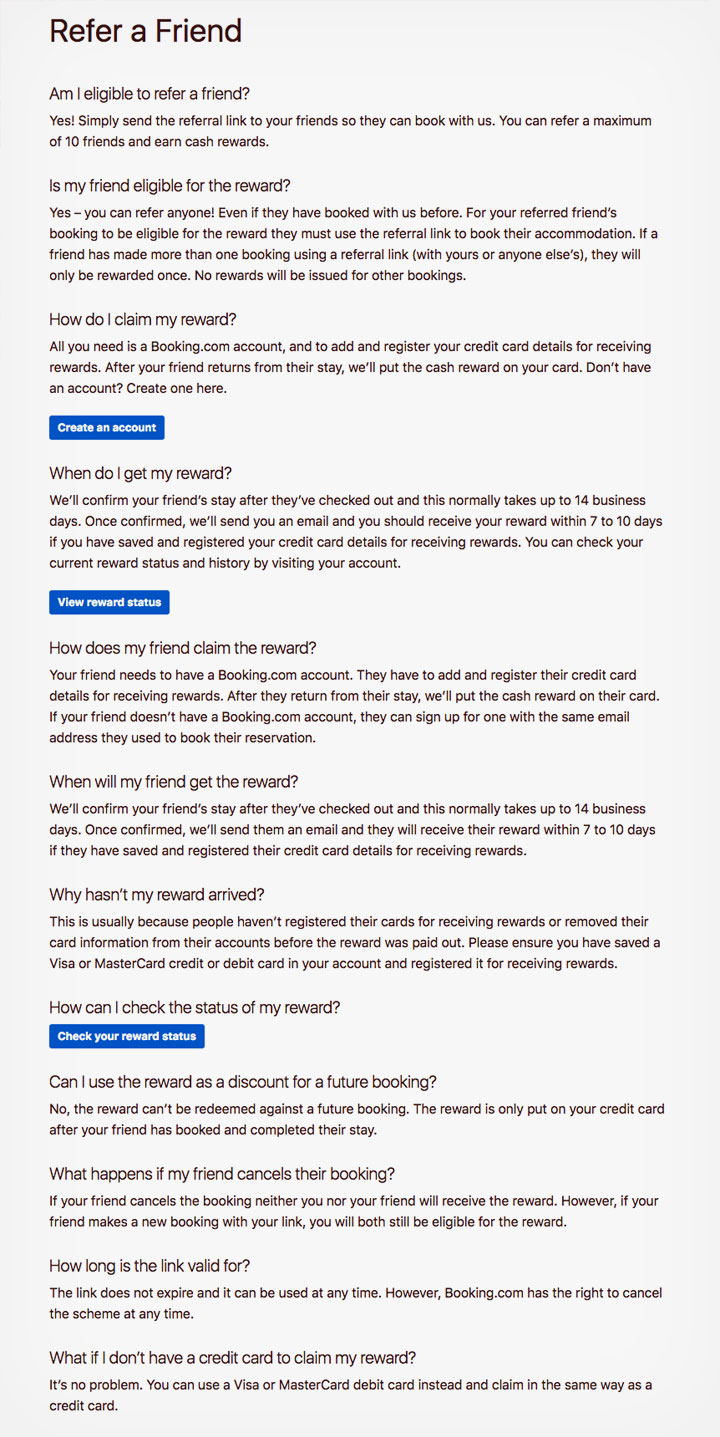 Please note, that the refer a friend link above might not work in case it's used up. Rest assured, I will fix the link as soon as possible.
For any questions about Booking.com referral program, cash rewards, bonuses, discounts and coupon codes. Please, just leave that comment!
Sincere regards, David