This is your definitive guide to shopping, shipping and using the Bangladeshi version of eBay marketplace. Now in 2023, easy payment solutions available..!
Open this link for access to the official eBay in Bangladesh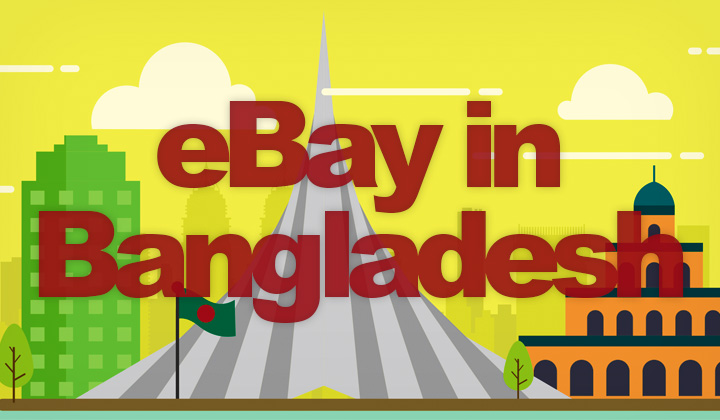 Weather you are in Dhaka, Chittagong, Khulna, Rājshāhi, Comilla or anywhere else in Bangladesh, the "global version of eBay" works best and is officially recommended.
It automatically calculates shipping costs to the country, and gives out relevant search results, as well as provides various payment options.
The e-commerce site is one of the most popular auction and seller portals.
How eBay works in Bangladesh
Despite a lack of support for the "Bangladeshi taka" currency, and absence of a localized ebay.bd version of the website, using eBay is made easy, and convenient.
Buying amongst eBay sellers from Bangladesh;
It's always worth it to search for availability within Bangladesh, for cheaper and faster shipping. There are surprisingly many Bangladeshi sellers there.
Step 1. Click here to go to advanced search on Bangladesh eBay.
Step 2. Scroll down to find the "Located in" settings.
Step 3. In the dropdown list of countries, select "Bangladesh".
Step 4. Continue with your search for results amongst local seller sonly.
Buying amongst eBay sellers from Asia, USA, etc.
Another trick is to search through sellers in Asia for example, shipping is often affordable and pricing highly competitive.
Step 1. Click here to go to international Bay site in Bangladesh.
Step 2. First search for anything as if using the site normally.
Step 3. Then to your left, there will be an available "Item Location" setting for fine tuning searches to specific regions, like Asia, US, Europe, etc.
Step 4. Choosing Asia will automatically narrow down results to that region.
Shipping, and delivery support to Bangladesh;
Nowadays most eBay sellers, and auctioneers support varying shipping options to Bangladesh. But it's good to note, that Asian sellers sometimes only support cheaper sending options through regular mail without home delivery.
Consider the risks, and go for safer, more expensive courier shipping when needed. You'll need to check each seller individually to see which shipping, or delivery options are available. Contact sellers directly to inquire other methods.
Actual shipping costs are automatically calculated if you are located in Bangladesh. For those outside the country, you would need to sign in, and edit country settings for your eBay account. These are estimates, final price will be at check out.
Cities like Barisāl, Dinājpur, Bogra, Nārāyanganj, Mymensingh, Sylhet, Nāgarpur, Jessore, Cox's Bāzār, Narsingdi, Tungi, Rangpur, Comilla, Rājshāhi, Khulna, Chittagong, Dhaka and others are known to work well with eBay.
Bangladesh payments and PayPal support on eBay;
Despite some advancement such as a collaboration of PayPal and Sonali Bank that created a service called "Xoom" for money transfers, there is not yet a solution that could enable PayPal payments on eBay in Bangladesh.
But as all major credit and debit cards are accepted, a common solution is to use prepaid or so called "virtual credit cards" that are nowadays easy to obtain.
Popular virtual cards in the country include; QCard, Click-Card, Bank Asia Virtual Card, ClickBD, MBL VISA Virtual Card as well as others. Officially supported credit companies by eBay are Mastercard, Visa, Discover and American Express.
I suggest forgetting payment portals such as PayPal, Payoneer & Skrill.
Selling on the Bangladeshi eBay marketplace;
Also those international sellers wishing to enter the Bangladesh e-commerce market will find eBay convenient as a familiar, English language portal.
Read more about their global shipping program for available solutions.
And that was my guide & review to eBay in Bangladesh.
Please share if possible, and huge, humble thanks for your visit!
I'd love to get comments & questions on Bangladesh e-commerce.
What's your experience with buying products on eBay..?
My best regards & cheers, David.
As a last bit of advisory, it's fair to let you know that sometimes these posts contain affiliate links which support my efforts, producing mutually beneficial content. At least, that's my intention. Biggest thanks for your voluntary collaboration.