Is there eBay in Morocco? Yes, there is a localized version of global eBay, that servers Moroccon buyers, sellers and supports shipping, and delivery to the country.
Click here for the eBay store website in Morrocco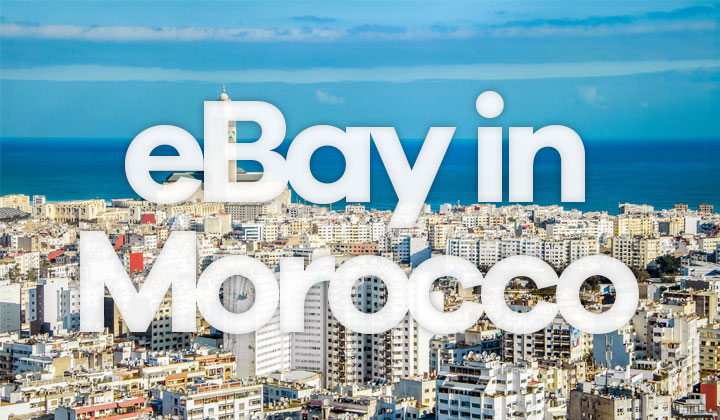 Wether you are located in Casablanca, Fez, Tangier, Marrakesh or elsewhere in the country, the official site intended for Moroccan users is the "global eBay site".
So while there is no own domain name like eBay.ma, the site can detect your location and serve search results and content accordingly.
If you were wondering can ebay deliver to Morocco, it does all that and more. The e-commerce site for auctioning, and online shopping is well known there.
There are even plenty of Moroccan eBay sellers. Here's my guide!
How eBay works in Morocco
Use these simple tricks to fine tune your shopping experience, in or outside of Morocco. And please, read further for details on how localization works.
Purchasing from Moroccan eBay sellers;
For the cheapest shipping, and fastest delivery of course, you can do a search amongst eBay sellers physically located in Morocco like below.
Step 1. Go to advanced search page on Moroccan eBay
Step 2. Fill in the search box first.
Step 3. Further below that, select "Morocco" from the list of countries under the "Located in" dropdown menu.
Step 4. From then on, searches are narrowed down to Moroccan sellers only.
Purchasing from eBay sellers in different regions;
Popular methods for global shopping is to narrow down searches to either Europe, or Asia for cost competitive shopping but higher shipping costs.
Step 1. Go to the global eBay site version for Morocco
Step 2. Conduct a regular site search for the item of your choice.
Step 3. The search results page will display quick selection menu on the left, with an option to search in regions such as, North America, Asia, Europe, etc.
Delivery in Morocco, and shipping;
Being a global marketplace, most international sellers support shipping, and can deliver to the country, not just sellers in Morocco.
Which delivery methods are available does depend on the individual seller, not on eBay. Usually options are between regular mail and fast courier services.
If the seller doesn't have the available shipping method as an option, you can always contact them in person and ask for a custom quote, which often works.
When you are located in Morocco, it will show those used or auctioned items first that support global shipping. As well as calculate costs automatically.
When outside of Morocco, but wanting to buy products, and have them shipped to the country for family and friends, you need to sign up, or sign in to your old eBay account to change relevant country settings. Or simply, change the country of deliver on an individual item page to see support, and cost of shipping.
Sending items to following Moroccan cities is supported; Temara, Tetouan, Fez, Casablanca, Salé, Agadir, Tangier, Meknes, Oujda, Rabat, Marrakesh, Kenitra.
Also, all 12 regions in Morocco are widely supported; Dakhla-Oued Ed-Dahab, Marrakesh-Safi, Fès-Meknès, Casablanca-Settat, Oriental, Rabat-Salé-Kénitra, Drâa-Tafilalet, Laâyoune-Sakia El Hamra, Souss-Massa, Tanger-Tetouan-Al Hoceima, Béni, Mellal-Khénifra, as well as Guelmim-Oued Noun.
Support for Moroccan dirham currency;
Unfortunately, there is no support for the local currency. Despite some other country localization supporting this, for example Euro in Europe, etc.
Instead, if your internet connection is located in Morocco and you access the official, global version of eBay you will see all costs converted to US Dollars (USD).
Selling & auctioning on eBay in Morocco;
The site is popular with sellers both international and in Morocco. The former of which, uses the marketplace website to enter the local e-commerce market.
You can use the global shipping program to make sure that your product can be shipped to, and delivered in the country. Easy, with the convenience of English.
However, this guide is mainly a how to for buyers!
Have you got any questions about Moroccan e-commerce?
I'm happy to answer about buying, shipping, online shopping, eBay, etc.
Huge thanks for reading and possible sharing on social media.
Best regards, David.
Please be notified of the factor in affiliate links, which are placed here and there throughout the posts and reviews of this blog. This keeps me going, and support both my family and costs with the website. Support is voluntary.