Is there eBay in Kenya? Yes, there is! The Kenyan eBay works for purchasing, auctioning items, shipping and delivery to Nairobi and other cities in the country.
Click here to access the eBay store in Kenya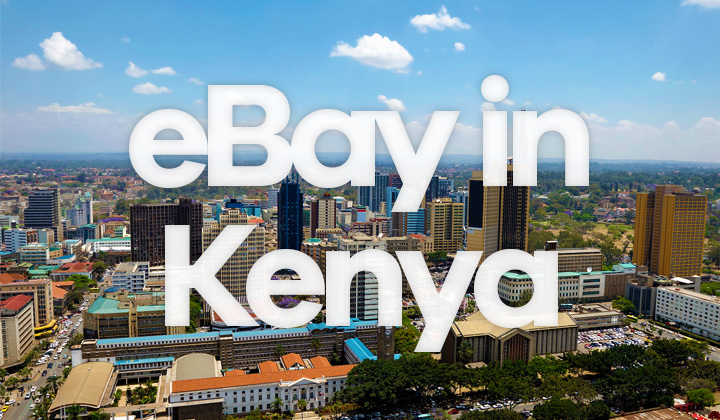 To buy from the eBay marketplace from Nairobi, Mombasa, Kisumu or elsewhere you can use the "global eBay version", which also works outside of Kenya.
While there is no eBay office located in Kenya, and neither do they provide their own eBay.ke domain, the website is tailored to work from anywhere.
The localized version is served when eBay detects your internet connection as residing in Kenya, although there is no support for the Kenyan shilling currency.
Here's my guide to online shopping on their store website.
How eBay works in Kenya
By using these tweaks you can optimize your shopping experience in English. Bantu languages, such as the Swahili language is not supported on the website.
Making purchases among Kenyan eBay sellers;
There is a huge number of eBay site sellers located in Kenya, and you can use it to your advantage for the cheapest shipping and fastest delivery.
Step 1. Click here for advanced search function on eBay in Kenya
Step 2. First, fill in the item name you are looking for.
Step 3. Find the "Located in" menu towards the bottom of the page.
Step 4. Select "Kenya" as your country and continue with search.
Making purchases among other regions, Asia, Europe, etc.
While you can shop globally on eBay, there are also possibilities to fine tune your product searches to various regions of your choice.
Step 1. Click here for global eBay website for Kenya
Step 2. Continue with a normal site search for any item.
Step 3. On the search results page, you'll find a quick region selection on your left to narrow down the search. Select Asia for competitive pricing, etc.
Shipping support, and delivery to Kenya;
You'll find that on the global eBay most sellers support various shipping options to Kenya, or you may even get in touch in person to discuss delivery.
Once you browse to the site within Kenya, eBay will automatically detect your shipping location and calculate costs accordingly. Also, showing relative search results.
If you are not in Kenya, but want to purchase something that would be sent there you can either shop normally among international sellers, or change the country settings of your eBay account by singing up or singing in to access the settings.
Then searches will indicate for each item if shipping is supported.
You'll find support for shipping to cities like; Nairobi, Mombasa, Kisumu, Nakuru, Eldoret, Kehancha, Ruiru, Kikuyu, Kangundo-Tala & Malindi.
Support for Kenyan shilling currency;
Online shopping and payments will take place in US Dollars (USD), eBay has no plans to support shillings on the global site version.
Selling on the Kenyan eBay marketplace;
Besides online shopping, the eBay website is very popular with both local and international sellers for new, as well as used goods.
Those on the international front, may take advantage of the global shipping program which is one of the best ways to enter the Kenyan e-commerce market.
All in English with a known, and trusted buyer/seller interface.
This concludes my "how to guide" to eBay in Kenya.
Any questions about buying, shipping or Kenyan e-commerce?
I'm happy to answer them in the comments below.
Share the usefulness on social media below, if possible!
Thank you for reading, David.
Also I aim at being fully transparent with readers, and wish to disclose the possibility of affiliate links on this and other posts, reviews, etc. Cheers for your support.