OK. The title may be a little harsh but in my experience the official Facebook support is pretty robotic and I have never gotten real support from there.
I'm talking about contacting a person who doesn't reply to me with ready written answers, and actually has an in-depth look into my problem and provides their help.
Being frustrated enough, I searched around and found a much better alternative!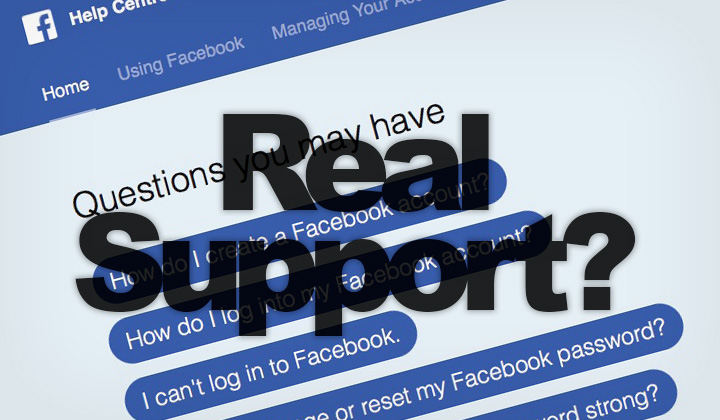 So for real human support without robotic replies to emails and contact attempts, I can recommend checking out the Justanswer question and answer site.
You can "use this link" to get a week trial for your question.
So far it seems their experts know more about Facebook then those who actually work with their customer care. These are the nerdy types who know their way around things.
If you don't have friends or family that can help you out with these things, I'm pretty sure this is your second best chance of solving problems quickly and with a real human.
You can get answers to questions such as:
Why does Facebook keep logging me out?
What do I do if my Facebook account has been cloned?
How do I recover my Facebook account that was disabled?
How to retrieve lost Facebook passwords?
Why has Facebook blocked my account and what can I do?
How to solve the Facebook identity problems?
How do Facebook ads work?
Is Facebook free to download and use?
Can you trust Facebook pay?
How do I set up Facebook for maximum security and privacy?
Doesn't matter if the question is small or big, Justanswer has plenty of experts on the topic and if you are not satisfied you can ask a different expert for free of cost.
Also questions on things like Facebook pay, dating, messenger, etc. welcome.
My issue with the Facebook Help Center?
If you've never went through the official customer support route, I can tell you that if your question is not super generic you might end up wasting your time trying to get an email response, waiting for proper answers, etc.
It soon becomes obvious that they are best at providing you with links to their FAQ and other help sections with ready written answers and guides on how to solve problems.
If that works for you, then all you need to do is search for your question from the help center. For anything beyond that, or if I didn't understand the ready answers, there was little they could assist me with.
Also I'd like to mention that a lot of companies such as Facebook can get away with poor customer care with the notion that their services are free. Sorry Facebook, but you are making huge profits off users and should provide better support to all of your users.
Anyway, this seems the norm and I'm happy that I have been able to solve my problems through this better alternative so far.
Hope this helps and thanks for reading.
Or what was your experience with Facebook support?
Would love to know about that in the comments.
Much thanks for reading, David.
Some of the links in these posts on the blog are affiliate links which may convert to monetary benefit for the author.