Does timeline-based video editing get better than this?
I don't think so. It's the choice of professionals for anyone who is planning to go pro with not just Premiere Pro but with their video content.
Nevertheless, I've compiled the pros and cons to help you choose if it's the kind of software you are looking for/need.
And most importantly, is it worth paying for?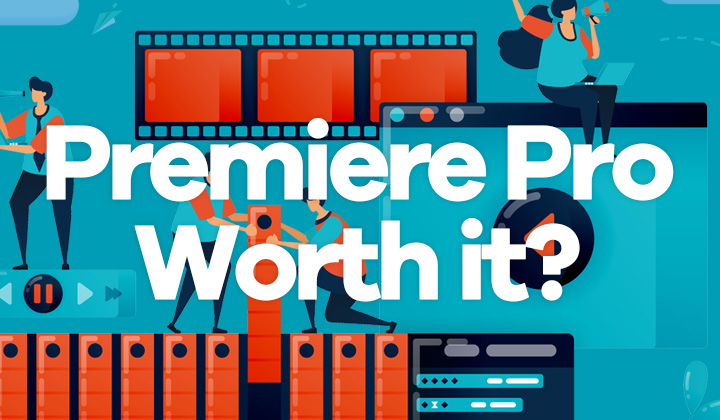 Want to try out Premiere Pro?
You can "see this page" to obtain a trial before you buy.
My review of the pros and cons of Adobe Premiere Pro.
Premiere Pro Pros:
Compatible with Illustrator, Photoshop and After Effects
Completely customizable layouts
Quick playback without need to render anything
Fast video rendering
Excellent format support, including the ability to import video files from nearly any format possible
Custom keyboard layouts is something many people complement although I am not using them as actively as other users
Intuitive graphical interface with a short learning curve
Lots of audio editing options (audio effects, background music, voice over, etc.)
You can edit VR video and audio
Ability to render video to multiple file formats
Motion graphics that make you a real pro
All inclusive with all the tools you could ever possible need for making videos together with other Adobe products
Premiere Pro Cons:
Some experience occasional crash issues (depends on hardware as far as I've experienced)
Uses a lot of computer resources, so having a powerful PC or Mac with plenty of memory is advised
Features and options are sometimes overwhelming because really anything is possible with this software
Those who like a flat fee may not like the subscription pricing model
Limited trial with high price for individual users
Need to pay for After Effects for some of the high level effects and to work with 3D
Software tutorials provided by Adobe could be better (however luckily there are loads of good third-party ones available online)
The is also no guided usage option available
My final verdict:
Without a doubt those who take the most home are organisations and individuals who can afford a multiple Adobe products or suite packages for bringing together best of all worlds.
While costs may add up quickly, it's without a doubt that anyone ambitious enough will find it worth while to spend a monthly subscription to make anything possible.
It's a choice of professionals for a reason. And the verdict will be met by analyzing if such abundant features are needed.
I can say from experience, that despite your requirements it's hard to go back to something less once you are used to Adobe Premiere Pro. So it's good to choose early on with what software you want to commit to.
What's your take on Adobe Premiere Pro?
I'd love to hear your comments, questions, etc. below.
Thanks for stopping by, David.
Please, do note that some of the links in these posts on the blog are affiliate links which may convert to monetary benefit for the author.