What exactly is Adobe Illustrator?
Are you aware of what Adobe Illustrator is and what it can do? If yes, you will surely agree with what we are about to say. But if it is a no, Let us dive into the world of Adobe Illustrator.
Among the different software created by Adobe and introduced to its devoted users, Adobe Illustrator is one of the graphic designers' most used vector-based applications.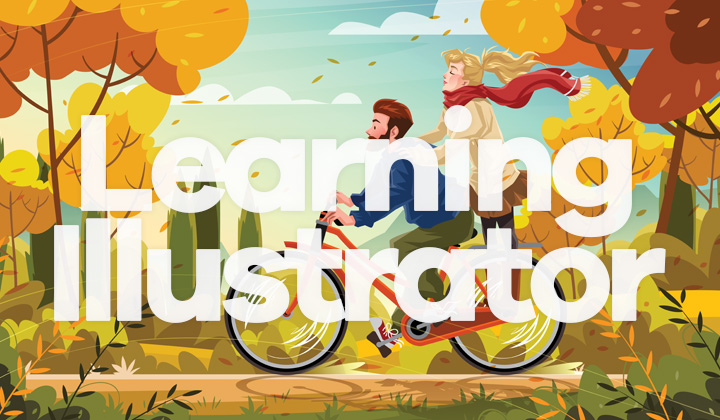 This software allows graphic designers to design vector graphics, illustrations, posters, logos, typefaces, presentations, and other relevant artworks. Adobe Illustrator has a surprising amount of capabilities. Print and digital designs can be made using this design program. It's fantastic for illustrations. Illustrator is the best program available for designing logos. Illustrator's versatility is another factor that makes it popular among graphic designers. It truly allows you to accomplish a lot, like changing colors, fonts, and shapes, among other things.
Here, two questions arise how difficult it is to learn Adobe Illustrator and is it even worth learning and adding to your skillset?
Is learning Adobe Illustrator worth it?
Adobe Illustrator is an excellent software for learning and growing your art. Moreover, there are a lot of benefits that Adobe Illustrator offers. Some of the main advantages of this application are:
The user interface is simple to use.
Adobe Illustrator gives you more flexibility when customizing your entire workflow. The user interface enables customized browsing, and it allows for space savings. These procedures allow you to complete your job tasks in any way that helps you do them quickly while maintaining total control over your available options.
It allows for in-panel editing.
Another of Adobe Illustrator's famous benefits is the option of in-panel editing, which helps to save a ton of time. Additionally, you can use multiple artboards simultaneously. Compared to programs that only permit you to concentrate on one picture at a time, this makes it easier to focus on multiple photographs simultaneously.
It has endless modularity.
There are no resolution issues when using Adobe Illustrator. You are frequently given clean, clear lines that can be printed in all dimensions. In addition, you rarely lose resolution when working with visuals in this software, giving you even more versatility when producing multimedia for different uses.
It creates files that are of a manageable size.
You won't have to deal with large, heavy files after using Adobe Illustrator. In contrast to other programs, Illustrator produces relatively tiny files. They can be easily shared, sent as attachments in emails, or used without using your computer's resources. Of course, when sharing large files with a service, it would be beneficial if you would not have to spend time syncing them to the cloud.
Is Adobe Illustrator Easy to Learn?
You can learn it entirely independently, and getting started is simple. Mastering Illustrator isn't as hard as you might believe if you put your heart and soul into it. You'd be astonished by how much assistance you'd receive while learning.
Online resources abound that can assist you in becoming a design expert. Technology has made everything feasible in the modern era. Many free online tutorials are accessible if money is limited, and most design colleges offer online courses.
Conclusion
One of the most successful design programs for graphic artists, Adobe Illustrator, offers you unique capabilities for unleashing your imagination. You'd be surprised at how much you could do if you played with shapes, curves, letters, and hues.
Don't hesitate and start today!