Watch this page for discount promotions and offers regarding the Majestic® SEO Service — "Marketing Search Engine and SEO Backlink Checker".
Note that there are no coupon codes and any you may find on the web are fake. They do run the occasional promo from time to time, especially with discounts for quarterly and annual plans. I will follow how the situation develops.
Or you can check out a 7-day free trial of SEMrush under this link.
Which I prefer over Majestic as the best alternative anyway…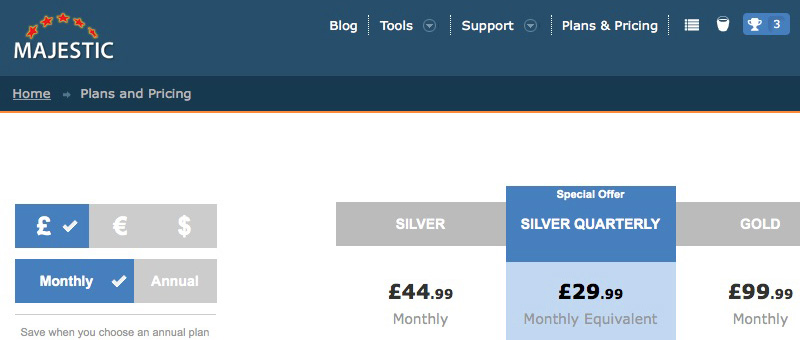 You can see their latest plans and pricing options for more information.
Majestic's Background
Majestic is based in England and is owned and operated by Majestic-12. Majestic and its service offerings seem to come from the project started by Majestic-12 called MJ12node. The project and idea was to use idle computers to map the web and build a World Wide Web search engine. By combining tons of computers, the project could process more data than any standalone system could. While a prototype was built in 2006, it has yet to be fully functional due to the lack of resources.
In order to accommodate and meet the needs of resources, it seems Majestic-12 started to offer its already accumulated data as a service to subscribers. They then took the accumulated data and allowed businesses to access it to analyze SEO data such as backlinks.
The aim at building a world class distributed search engine is a large one and one that seems to benefit only the company leading its creation. However, 2009 saw the creation of "Distributed Computing Partners" which aimed at giving back to the members who sought to help the search engine project which supports the SEO services provided by Majestic. Knowing this, Majestic not only provides a service but seems to support a quality goal while giving back to its supporters.
Questions about discounted seo tools for search engine marketing and checking backlinks..? Comments welcome on Majestic & others!