I know, I know.. they've got 60+ million songs, no ads, entire music library on all iOS devices, sharing playlists with family, just $9.99 a month, etc.
But what we wanna know is: Is Apple Music really worth it or not?
Here's my take to help you choose.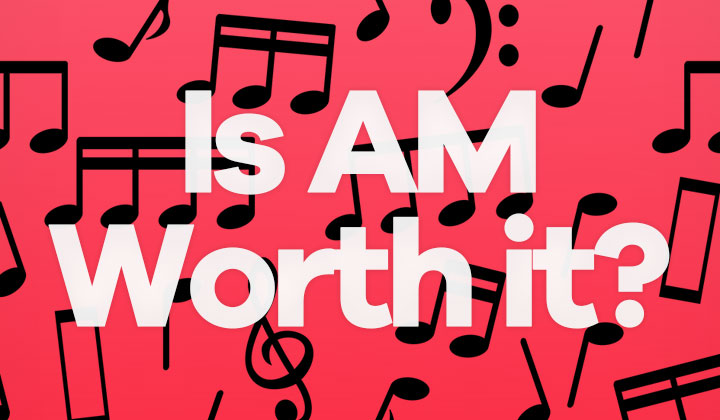 Easiest way to know if Apple Music is worth it?
It's as simple as grabbing a free trial "see here" (affiliate link).
You'll have plenty of time to get to know the service and it's available content, which in my experience covers pretty much anything I've ever searched for.
But wait, there's more..!
To subscribe or not to subscribe, that is the question.
The pioneer of buying music online is of course Apple, where the pricing policy was cost per tune. Now, nearly all of the songs from that library can be accessed with a low monthy price.
So you can imagine that back in the days pretty much every artist was striving to be on "iTunes", which lead to the transition of artists to Apple Music. So in terms of variety and mount of songs, I believe it's one of the best there is and has kept me going.
That, added with the seamless integration with your Apple ecosystem, life hasn't been easier in terms of music. Anything from what you already love to endless new discoveries.
In my experience, discovering new artists is also what AM is great at.
What other Apple Music subscribers have said.
And don't just take my word for it, below I've summarized what other people are saying on the internet about Apple Music and if it's really worth it or not.
AM is great for discovering new artists, good for those who like to dig and find new music.
The graphical interface on iOS is better.
Sharing playlists and music with family is very useful and easy.
It's easy to fall in love with Apple Music with a 7 day trial.
AM has frequent improvements and updates to look out for.
AM pays artists more than some of it's competition.
If you are into creating an Apple ecosystem, AM is a must.
Siri works better with Apple Music.
You can find music videos of songs.
Monthly subscription price is very decent.
And the list goes on, but you surely get the point of what the fans are saying.
So why not just go ahead and try them out.
Music is very much up to personal taste, so I won't comment on that. However, you can be sure that most people will find a good home for their tastes there.
Any questions or comments about Apple Music?
I most welcome all comments below!
Thanks a bunch, David.
Some of the links in these posts on the blog may be affiliate links which may convert to monetary benefit for the author without additional cost.