In this review, I'll provide my take of the popular TV streaming service.
At a mere $4.99 a month seems there's nothing to loose. But don't open your wallet just yet, Apple TV+ is not for everyone and it's worth doing some research.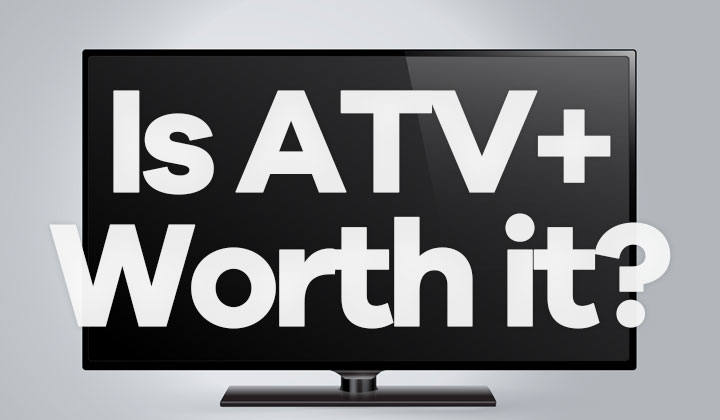 So is Apple TV+ really worth it or not?
The leading streaming channels such as Apple TV+ first of all compete over original content. So if you're a fan of Apple Originals, good. If you're a fan of the Apple ecosystem, great. But if you want to access all the movies, drama and documentaries you ever want to watch, it's hard to know before you actually try them out for real.
Is there a simple answer?
If you are located in any of the 107 countries from US to Bermuda, chances are that it's worth taking up the 7 day trial subscription to find out for yourself.
Just head over to their official home page "over here" (affiliate link) for a free trial.
You get to experience the real thing with all the content without paying.
Why am I subscribed to Apple TV+?
As an Apple fan and an owner of an iPhone, an iPad and my trusty Macbook Pro, it's obvious that they were always high on the list of possible candidates.
After trying out a few other provides, I have settled on ATV+ and happily so.
Once you get used to the convenience of having it on or your devices, it's hard to go back. Anyway, you're going to miss out on original content any provider choose.
Apple Originals has some of the best documentaries and films nowadays that I would not miss. Making me even more confident over my decision to stick with them.
So yes, my personal, biased view is that Apple TV+ is worth it indeed.
But don't just take my word for it.
Below I've summarized what other Apple TV+ subscribers are saying online and why they prefer ATV+ over other online on demand streaming TV services.
Since membership pricing is low cost, it's worth it for access to all the latest Apple Originals alone.
Basically, ATV+ is great for anyone who watches a lot of TV.
Siri integration makes it easy to search and rent movies.
Everything is included in the membership price, no premium movies, etc.
Apple TV can do so much more than just streaming drama, movies, etc. it has the App Store so you can use VLC, plex, Infuse, etc. You can use iTunes with it.
The user experience with Apple TV+ is seamless with the Apple ecosystem.
You can use pretty much any device there is to watch Apple TV+.
While it's not the most popular TV streaming service, it's the most original with exclusive content.
So what can you use to watch Apple TV+ with?
Directly online with your favorite web browser.
All Apple devices such as iPhone, iPad, iPod Touch and Mac.
An Apple TV for the best experience.
Smart TVs such as Samsung, LG, VIZIO and Sony.
Gaming consoles like PlayStation and Xbox.
Streaming devices such as Roku, Amazon Fire TV, Google TV
All in all they are pretty damn good if you ask me.
While giants like Netflix and Amazon Prime which I understand people are so into seem to prevail. I think they are loosing on something much better.
Probably just because the masses attract people.
Apple is different from the masses, with more clever choises and more intellectual stuff.
Simply put, they are worth a try.
Any questions or comments on Apple TV+ plus?
I've love to hear your thoughts on it too.
Best of luck, David
Some of the links in these posts on the blog may be affiliate links which may convert to monetary benefit for the author without additional cost.