The ever expanding Amazon online shopping empire is now available in Muscat and elsewhere in Oman. Here's a guide for cheap, fast shipping & delivery.
Click here for the Oman site of Amazon marketplace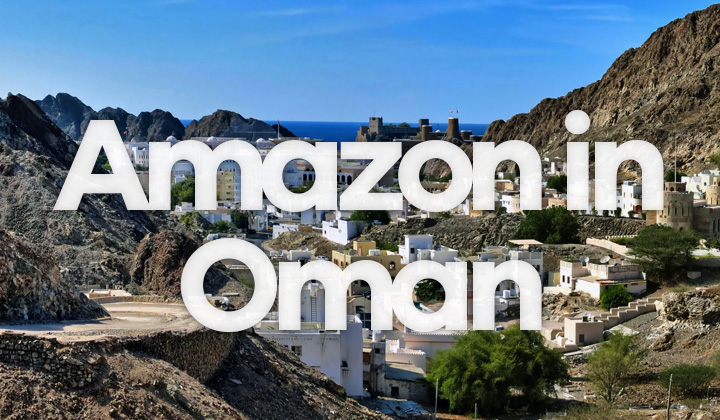 Is there Amazon in Oman..? Not only is Amazon now available in Oman, it's now the biggest e-commerce store in the country, replacing Amazon.com website.
They provide fast courier shipping from the UAE, andcash on delivery (COD) is supported, on top of the best availability of products, and shopping categories.
In Oman, the company goes with the name Souq but has a similar interface.
Click here for Amazon's own online shopping guide for Oman.
The family of e-commerce sites covering most of the Arabic world, is based in Dubai. And Oman, is one of Amazon's international shipping countries.
You'll get pricing in Omani rial and can also pay with cashU.
How Amazon works in Oman
The online store Souq, started it's operations back in 2015, by a Syrian businessman Ronaldo Mechor. In 2017 they were bought by Amazon and has since established itself as the largest, most popular online shopping site in the Arabic world.
Product availability has been fast reaching it's big brother Amazon.com, and there is no longer need to deal with expensive shipping and poor delivery support.
Although prime, and kindle are not yet supported, you get access to the affordable, and popular AmazonBasics products. Also, they feature a seller portal which further expands product availability and shopping power throughout Arabic countries.
Also, they feature a rotating deals of the day page worth checking out.
Btw, there is no www.amazon.om version of the shopping site.
Amazon's shipping, and delivery options to Oman;
Shipping is fast and done by safe but affordable courier services only, especially look for items that are marked "fulfilled by Souq". They are stocked in their own warehouses, most likely in Dubai or elsewhere in the UAE for fastest delivery.
Rates to Oman vary, and similar to Amazon, you will need to proceed through item checkout to see the final cost to ship the order to your location.
Either way, it will be significantly cheaper than on UK & US version of Amazon for example. And you can opt-in for the cash on delivery option.
Please note, that orders are delivered during working hours only between 9:00AM and 6:00PM from Saturday to Thursday.
All cities in Oman are supported for shipping and delivery, including Buraimi, As Suwayq, Bawshar, Salalah, Seeb, Saham, Sohar, Muscat, Rustaq and Ibri.
Also worth noting, is that you are eligible for a refund if the ordered item is counterfeit or differs from the product description. This includes the rate of shipping the item back to Souq. And on top of that, there is a 15day money back guarantee.
Language selection on Amazon site in Oman;
While Amazon.com provides only one language, with Souq you have the option between both English and Arabic languages for product descriptions, and the interface.
Go through these steps for language changing;
Click on Oman flag at the top menu.
In case you are not on the Oman version of Amazon, click on the UAE flag to change to Oman where it says "Ship to".
In "Languages", select Arabic (عربي) or English.
Lastly, just click the blue "Save & Continue" button.
If the website is showing up in Arabic, please find the link at the top which says "English", clicking on it will change the language immediately.
Leave a message if you have any questions about Amazon in Muscat.
I'm happy to answer questions about e-commerce in Oman.
Much thanks for your visit and possible share in social media..!
The posts, guides, etc. on this website contain affiliate links when possible, which promote the site and help out the author tremendously. Much thank you.