In 2023, PayPal no longer supports withdrawing of funds to a Chinese Bank account in Yuan (CNY), previously possible in partnership with Lianlian Pay.
Read this post for detailed information, as well as find out alternatives!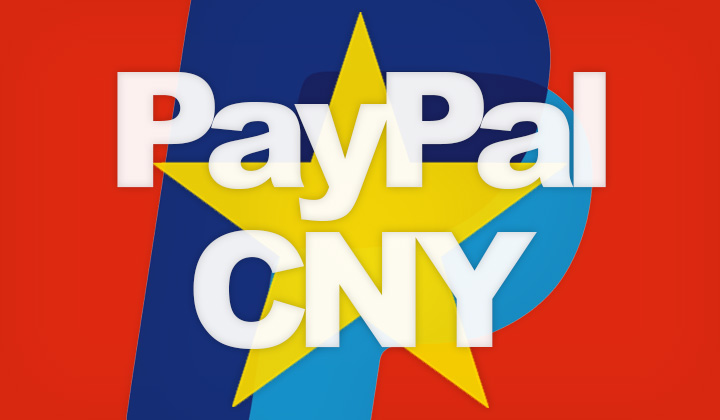 PayPal is a popular choice amongst online businesses in mainland China, as a payment gateway for foreign customers purchasing products and services.
Largely thanks to collaboration with Lianlian Pay which provided a flat 1.2% fee for withdrawing those funds to all major Chinese banks. You could charge customers in USD and have the money transferred over to your bank account in China within a week in Chinese Yuan CNY currency (also known as Renminbi).
These have previously been the withdrawal options to Chinese banks;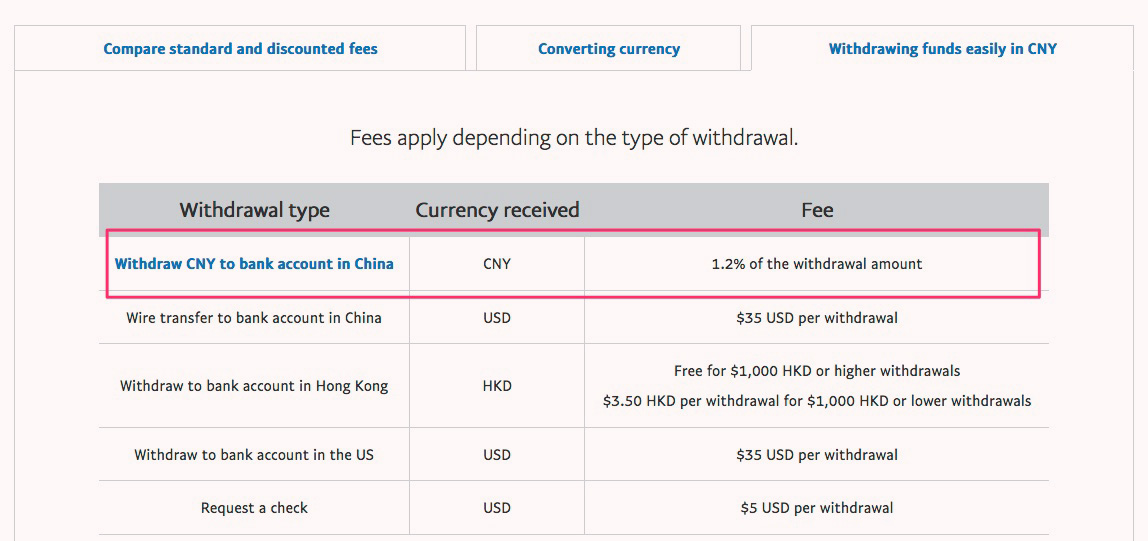 You can find current seller fees for China based customers here.
Also, previously you could withdraw multiple times without having to worry about expensive fees. Now, besides the only option of withdrawing in USD there is a fixed fee of $35USD per transaction to Chinese bank accounts.
This means, that to cover the same fee as previously you need to withdraw no less than $2917 at a time. Therefore making smaller withdrawals more expensive.
So what's the alternative?
Besides using an alternative payment gateway, you can use an intermediary bank from where you can obtain an "e-card" or electronic bank card number which you can connect to your regular Chinese bank account.
Withdrawing funds from PayPal to the e-card in USD, they will forward the money in CNY to your bank. Which will cost you an extra 12USD or more.
There are a few companies located in Chongqing, China.
Chongqing FESCO E-commerce Service Co.,Ltd
The first company to facilitate withdrawal of PayPal funds in CNY to Chinese banks is Fesco. And even though they no longer collaborate directly with PayPal due to the lack of required formal licensing, you can still use them.
Limit is 50,000USD/transfer.
Similar system without transfer limits.
Here is the announcement in English from PayPal;
PayPal Express RMB withdrawal service termination notice (Chinese here);
Dear PayPal Express RMB withdrawal service users,
In recent years, PayPal and Lianlian Payment have provided high-quality cross-border payment services for many cross-border e-commerce sellers in China through friendly cooperation and joint efforts.
Based on the respective development directions of the two parties in the future, and through friendly negotiation, PayPal and the successive payment decisions jointly decided to stop the fast RMB withdrawal business from July 1, 2018. China's PayPal users can still withdraw to the Chinese bank account in the form of US dollars by wire transfer, and complete the settlement through the bank.
Fesco application process in Chinese;
1.兴业E卡办理流程:我们现在可以开兴业E卡,是二类卡,E卡只有卡号,没有卡片,这个你们自己办很快只要10几分钟就可以办好。兴业E卡只接收外币,人民币不到E卡上面。
E卡卡号申请下来后,填合同,然后吧资料快递过来,等你可以提现的时候,你要把E卡卡号添加到你的pp账户,即可操作提现。
由于E卡是二类卡,所以你们在申请E卡过程中,会让你们关联一张开户人名下的其他银行一类卡,这张一类卡就是用于接收我司最后给你结汇的人民币用的。
提现: 从你在pp平台上提现,到重庆这边的兴业银行重庆南岸支行收到你的款,一般需要3-4个工作日,我们会在收到你款的当天,按照兴业当天的现汇买入价给你结汇,人民币也是当天转给你。
费用:只要你提现过来的是美金,我司就是免费给你结汇,就只有平台的费用,例如:你通过pp平台提现,那么pp会收取35美金手续费,中转行收取中转费:12美金,单笔收取47美金。
2.有兴业实体卡注册E卡方式:你先登录兴业官网,然后点击右边的"个人网上银行"然后点击右边的"一类卡登陆"输入你的兴业实体一类卡卡号,登陆进去后,点击"二类账户"然后点击"在线申请"后面的步骤就跟我发你的流程一样的。
3.下载交易数据:你们每次提现前,都要在你们的pp平台上面下载交易数据给我们进行认证,证明你们的外汇是从事跨境电商贸易的,规避那些不合法的!
And there you have it.
Reasons to increased complications of transferring USD funds from overseas to mainland China are likely influenced by trade disputes with the USA.
Any questions or suggestions on dealing with PayPal in China?
I'm happy to receive your input in the field below.
Thank you for reading, David.