The famed VPN service has recently announced an official launch of StrongVPN 2.0, complete with brand new apps and website redesign. Reviewed here.
Click here to go straight to see what's new!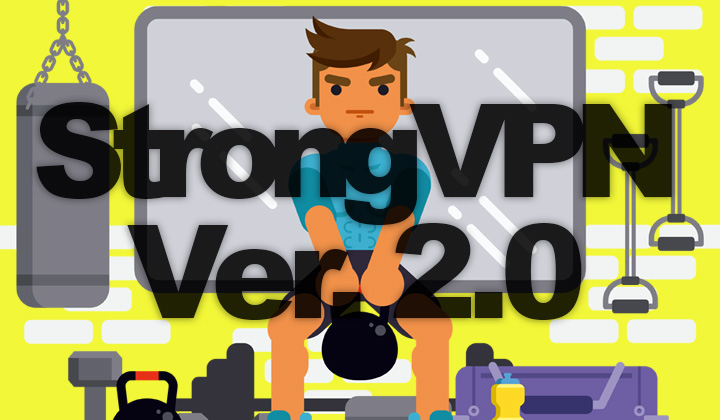 Introducing the New StrongVPN
Being one of the oldest VPN services in the industry, StrongVPN takes pride in delivering their customers fully pledged speed, privacy, and security.
They offer industry's strongest encryption methods, in combination with a VPN server network optimized for speed.
But being an established provider was not enough, and they have been working hard "behind the scenes" to built the best version of StrongVPN yet. Today, with excitement the launch of the new StrongVPN 2.0 is official!
See here what StrongVPN has released.
What's new Reviewed
While the revamp makes everything more attractive, it's also more intuitive to use. Continuing the tradition of easy use, taking it even further.
Redesigned Website;
Be it a newbie or an experienced VPN user, navigating the website with confidence is a whole lot easier than before. A fresh design, with a sleek interface to find everything you need to quickly and easily.
30-Day Money-Back Guarantee
Now it's possible to grab a free trial, buy taking advantage of their new 30 day money-back guarantee. No commitment, no pressure.
Leak Protection & IKEv2 Protocol
The connection client is now equipped with IPv6 and DNS leak protection for an extra secure layer to make sure that you identity never leaks out by accident. Satisfying the needs of the toughest security fanatics. Also, the IKEv2 protocol will bring more stable security between networks.
Optimized VPN Server List
Browsing through VPN country locations to connect to has been made easier, and quicker. With a possibility to sort by both, either city or country location.
Best Available VPN Location
The connection client can now select the best StrongVPN server automatically, depending on your location. Get fastest possible speeds in an instant.
New Mobile Settings
The popular iOS and Android app for securing your smartphone's online activities, has a new advanced settings screen to control VPN connection, and get in touch with support.
New Dashboard Screen
The all-new, and sleek dashboard gives VPN users a quick, and easy glimpse of the details of their connection status.
Simply hit the big, green connect button and connect in seconds.
These were the essential new features.
There's a whole lot more new stuff on StrongVPN 2.0, which is better tried in person than read. Grab an account and let us know your review!
Click here to access StrongVPN coupon page for the best discounts.
All comments, and experience good or bad welcome below!
Oh and do note; that sometimes these reviews, and other blog posts contain affiliate links. This means, that there could be financial benefit for the author to support a good cause without change in price. Huge thanks for your visit!