Here you'll find a sorted and complete list of StrongVPN country locations for all of their available VPN servers in December, 2023 — to be updated.
Note; You can also browse the official countries list under this list.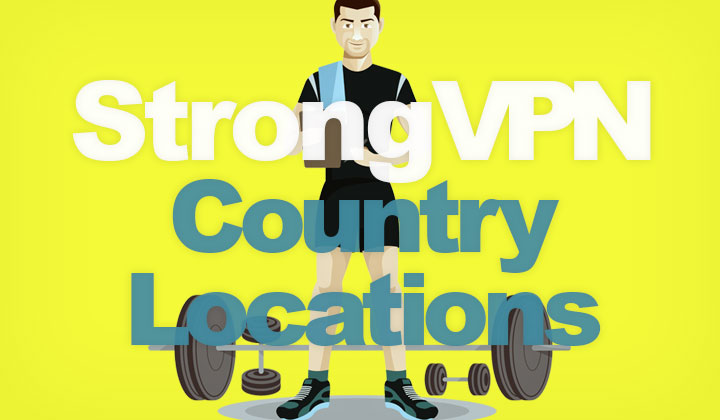 List of StrongVPN Country Locations
Europe & Middle East
Amsterdam (Netherlands), Canterbury (UK), Contern (Luxemburg), Frankfurt, (Germany), Ilfov (Romania), Istanbul (Turkey), Livingston (UK), London (UK), Madrid (España), Maidenhead (UK), Manchester (UK), Dallas (US), Milan (Italy), Munich (Germany), Rugby (UK), Riga (Latvia), Prague (Czech Republic), Paris (France), Oslo (Norway), Steinsel (Luxembourg), Stockholm (Sweden), Warsaw (Poland), Zurich (Switzerland), Tel Aviv (Israel).
Total: 24 server locations in 22 countries.
North & South America, United States
Atlanta (US), Buffalo (US), Chicago (US), Mexico City (Mexico), Las Vegas (US), Miami (US), Montreal (Canada), New York (United States), San Francisco (United States), Rio de Janero (Brazil), Phoenix (US), Seattle (US), Sau Paulo (Brazil), San Francisco (US), Toronto (Canada), Vancouver (Canada), Washington D.C. (US).
Total: 17 server locations in 4 countries.
Asia-Pacific
Kuala Lumpur (Malaysia), Hong Kong, Seoul (South Korea), Singapore, Sydney (Australia), Tokyo (Japan).
Total: 6 server locations in 6 countries.
Globally
The global total is 47 server locations in 32 countries.
Click here for an interactive map of country locations.
Any questions or comments on StrongVPN services?
Looking for a specific VPN location? Your input is welcome.
Please note; This list of countries with VPN Servers in December, 2023 is subject to changes and customers should check the official site (linked to on top of this page) for any possible updates to the information presented.
Also worth noting; some the posts, lists and other contents of the blog contained in Elftronix.com is subject to so called affiliate links. They may provide financial support to the owner in return to the work put into these posts. Thank you.