It's the norm for any VPN service to state a "no logs" policy or high-end privacy in order to attract customers. Despite these claims, common problems are:
logging – and other serious holes in security
no real anonymity or user data protection
no privacy – giving information to third parties
I'll show you how to easily find out if your VPN is really safe!
There are plenty of providers invested in quality infrastructure but lack dedication to security (PureVPN, NordVPN, etc.). But there is one service that has it all.
The guys at AirVPN are security fanatics and provide anonymity, privacy and even premium bandwidth with impressive dedication — I'll explain why.
Quick! —> Read more about AirVPN for yourself.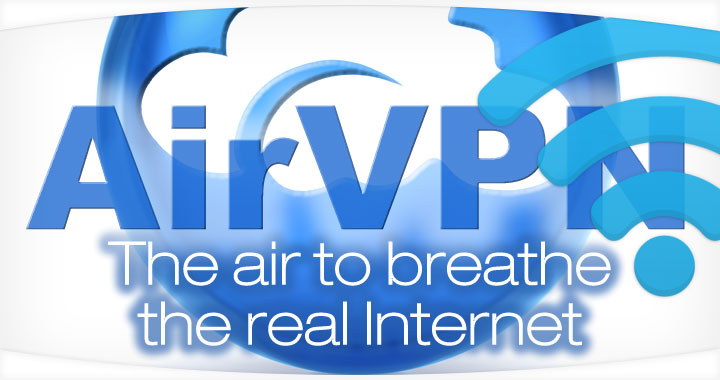 How to Tell if VPN's for Real
Evaluating a service gets technical — but the easiest trick in the book is to check (with Ghostery for example) how many trackers are used. This means that your IP address is sent over to third parties who collect your information. These are companies that give out their data to government entities on a regular basis.
No sincere service will send their data to third parties.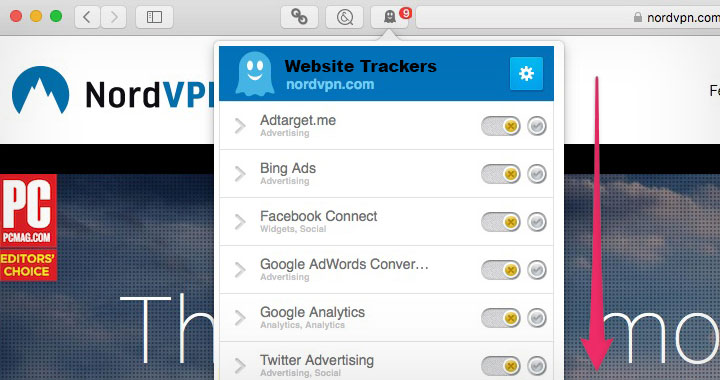 As an example NordVPN is connecting to 9 different third-party services (all do not fit into the screenshot) that collect and store your information.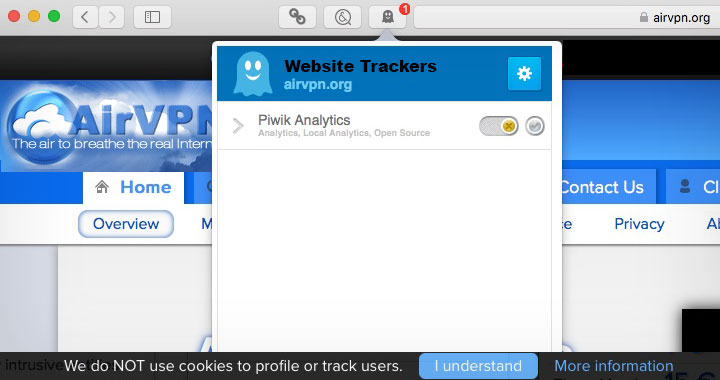 The self-hosted Piwik Analytics does not connect to any third-party servers. Meaning all collected data is kept on their own AirVPN servers — don't worry, they don't store any IP addresses or anything that can be connected to you.
And then the fun! All that's left is to read the terms of service and privacy policy. No matter what they say on the home page.. like "100% no logging" or "ultra secure" are meaningless unless you can at least verify that through legal terms.
Trust me, I've examined so many VPNs to know that "guilty until proven innocent" is the right approach —  I got in touch with AirVPN to get to the bottom of things!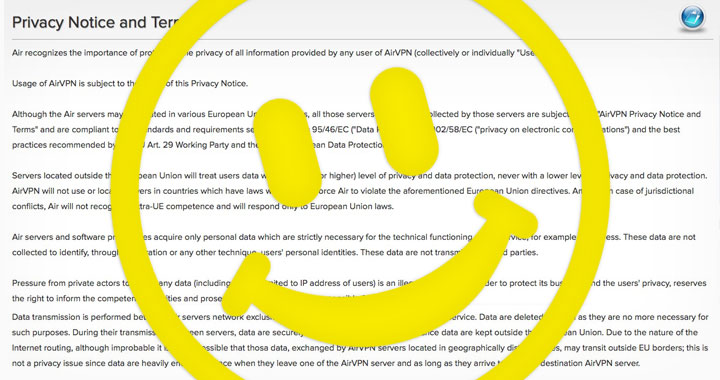 Below I've listed some of the most important features that have made me personally a fan, which is why I'm proud to promote their services.
Top AirVPN Security Features
Fully anonymous with only one account email address stored
No connection logs is obvious but also there is no logging of bandwidth, session data or DNS server requests. Nothing.
Support for extreme security with Multihop VPN where you can route the connection through two or more VPN servers in different countries.
Some servers use home ISP hostnames, making the connection look very natural.
VPN router support with FlashRouters.
Legal requests such as DMCA for copyright infringement end short as information is impossible to give to authorities.
Company is located in Gibraltar jurisdiction where there is no legal obligation to log customer activity.
No third party tracking software on their website, only Piwik Analytics.
They are easy to contact and helpful with any concerns you might have, privacy is all about trust and these guys back their business 100%.
AirVPN Infrastructure Specs
No limits on speed or usage which cannot be capped anyway because of the absence of any kinds of logs.
Three simultaneous connections or ask them for more if needed.
In exchange of higher subscription costs: only low latency, high speed and quality servers are used.
Secure payments with Bitcoin or Cash. Credit cards & Paypal also accepted.
Server locations: Canada, Czech Republic, France, Germany, Hong Kong, Latvia, Lithuania, Netherlands, Romania, Singapore, Spain, Sweden, Switzerland, Ukraine, United Kingdom, United States
Easy connection client for all operating systems (OS X, Windows, Linux), and mobile devices (Android, iOS) or use your own client.
Click here to find out more from the AirVPN website.
Just browse the AirVPN website and you start getting what I mean. The dedication to perfect all aspects of their VPN is present throughout their services. Amongst the many premium priced companies out there, this is the one I feel I'm finally getting my moneys worth.
---
Чтобы привлечь больше клиентов, для любого провайдера услуг VPN стало нормой заявлять о политике отсутствия журналов или высоком уровне приватности. Несмотря на эти заявления, на деле имеются такие проблемы:
логинг и другие серьёзные дыры в безопасности
отсутствие реальной анонимности и защиты данных пользователя
отсутствие конфиденциальности – предоставление информации третьим лицам
Ребята из AirVPN – фанатики безопасности с огромной преданностью делу. Они обеспечат анонимность, конфиденциальность и поразительную скорость работы Сети – в этом не сомневайтесь. Рекомендуем.
Alternatives
If you can afford the price tag and perhaps looking for a VPN server location in Iceland –> consider IVPN.
Do you have experience with AirVPN?
I would much appreciate any comment, thank u!
Good luck with securing your ass!